TOP 5 COOKING TORCHES


TRADEFLAME'S TOP 5 COOKING TORCHES...
WANT TO EXPERIMENT WITH A LITTLE FIRE IN THE KITCHEN BUT DON'T KNOW WHERE TO START?

Ultra Gas is ideal for MEAT!! The Turbo Torch is super powerful and perfect for searing and finishing off steak to get that crispness we all want so bad (who's mouth is watering already!)
... or cook yourself a sausage!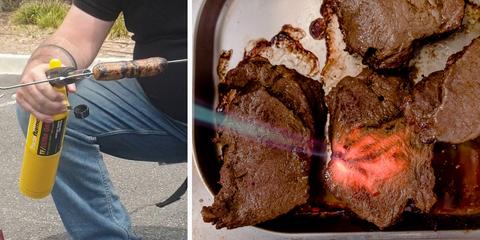 Comes with

400g Ultra Gas cartridge
Adjustable flame with on/off control
Piezo ignition (automatic ignition)
Anti-flare after 15 seconds (you can turn it upside down without splattering)

Butane torches are a classic torch for any kitchen, they are lightweight, easy to use and just bring that perfect level of fire to any culinary creation.
The flame is hot enough to crisp up a beautiful Crème Brûlée and other delicate pieces of culinary delicious-ness without exploding or incinerating the food!
Sear and finish steaks, seafood and anything else in the kitchen.
Boost those coals for a tender, slow cooked brisket.
Cocktails!! Need I say more...?
Butane torches are the torch of choice for Bartenders, Mixologists and anyone else who likes to get creative with their cocktail skills!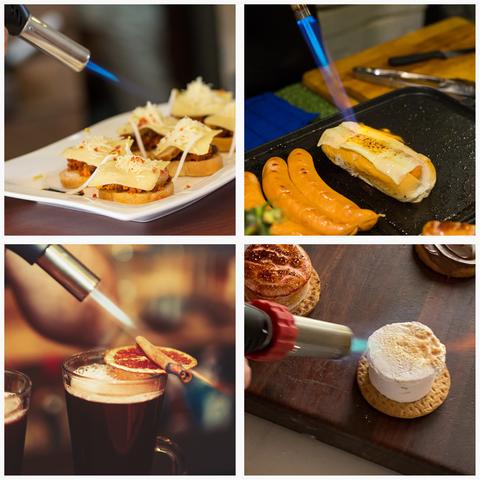 Comes with 60g Butane cartridge
Adjustable flame
Piezo ignition (automatic ignition)
Safety lock switch
Includes base / stand
Comes with

220g

Butane cartridge

Adjustable flame control
Manual ignition
PRO HEAT BLOW TORCH KIT (211312)
Comes with

220g Butane cartridge
Piezo ignition (automatic ignition)
Adjustable flame control
TORCH & BUTANE GAS KIT (212045)
Comes with

220g Butane cartridge
Piezo ignition (automatic ignition)
Adjustable flame control
Anti-flare after 15 seconds (you can turn it upside down without splattering)
---
Leave a comment