Cooking Torches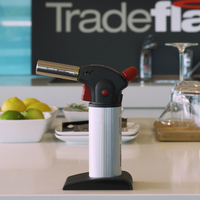 Want to experiment with a little fire in the kitchen but don't know where to start?
Here is a quick guide on when and how you can use certain gas and torch combinations, plus some personal recommendations from the Tradeflame Team!
ULTRA GAS / PROPANE
Ultra Gas / Propane is ideal for MEAT!! The Turbo Torch, Handyman Range or the Ultima Blow Torch are super powerful and perfect for searing and finishing off steak to get that crispness we all want so bad (who's mouth is watering already!)
Tradeflame Recommendation: This is a personal favorite of the Tradeflame Product Manager / In-house Video Star who has some mad torch skills! He is not scared to use something powerful and is also a lover of BBQ and slow cooked meats, the Turbo Torch and Ultima Torch are on high rotation in his kitchen!
BUTANE
Butane torches are a classic torch for any kitchen, they are lightweight, easy to use and just bring that perfect level of fire to any culinary creation.
The flame is hot enough to crisp up a beautiful Crème Brûlée and other delicate pieces of culinary delicious-ness without exploding or incinerating the food!
Sear and finish steaks, seafood and anything else in the kitchen.
Boost those coals for a tender, slow cooked brisket.
Cocktails!! Need I say more...? Butane torches are the torch of choice for Bartenders, Mixologists and anyone else who likes to get creative with their cocktail skills!
Tradeflame Team Recommendations:
Marketing / In-house Bartender is an absolute advocate for the Turbo Max Heat Torch, as someone who had never really used a torch before this one was simple to use, beautiful flame control and just the right amount of heat.
PRODUCT LINKS:
Super Cyclone Burner - Ultra Gas